Welcome to Cousins Steel's Website
Cousins Steel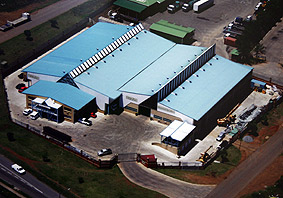 Cousins Steel cc is a registered Close Corporation and is situated in Pietermaritzburg, South Africa. The business is owned by Lynton and Craig Cousins who founded it in 1988.
It essentially is involved with the design, supply, fabrication and erection of Structural Steel. Their extensive repertoire of completed projects includes large factories, indoor centers, warehouses and shopping malls and smaller contracts like farm sheds and car ports. Cousins Steel cc is well known in Kwazulu-Natal for its expert consulting, quality steel structures and professional service delivery. Cousins Steel cc has also worked on numerous projects in other parts of South Africa and has experience in the international arena.
Nature of the Business
Cousins Steel cc are structural steel specialists and their business deals with the design, supply, fabrication and erection of steel. Lynton and Craig have also been commended on their consulting expertise. Cousins Steel cc has been contracted by engineers, architects, developers and private builders. They have an outstanding success record in being awarded tenders and have maintained this since the inception of the business in 1988.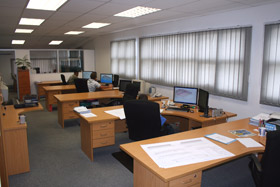 Although Cousins Steel cc is situated in Pietermaritzburg they have completed projects throughout Kwazulu-Natal, in South Africa and abroad. Their flexibility and ability to customize contracts is evident in their broad The projects they have completed range from large factories, indoor centers and shopping malls to car ports and farm sheds.
Cousins Steel cc impressive record of contracts is enhanced by the number of repeat contracts they have been awarded. This signifies the satisfaction on behalf of their clients and the importance Cousins Steel cc places on maintaining strong relationships with customers.
Cousins Steel cc also makes use of advanced technology to aid in the efficiency and efficacy of their performance. They combine this with reliable tried and tested methods to ensure they deliver a superior and sound service.
Business History
Lynton and Craig Cousins founded Cousins Steel in 1988. Their original factory was situated on the outskirts of Pietermaritzburg and was a modest 1000m squared warehouse. Over the years they have expanded and now function from a 5500m squared factory on prime industrial space in the hub of the Pietermaritzburg industrial district. Their ability to continuously adapt to the current market needs with a progressive outlook has ensured that Cousins Steel cc as sustained much competition and difficult economic slumps and managed to maintain a positive growth rate since its inception.
Originally from Durban, Lynton and Craig Cousins moved to Pietermaritzburg in 1966. Prior to starting Cousins Steel cc in 1988 Lynton worked for a steel construction specialist for 15 years and Craig 10 years at the same firm. Lynton and Craig, two entrepreneurs, decided to pool their resources and knowledge capital to form Cousins Steel cc and have done so successfully. Cousins Steel cc is one of the leading structural steel specialists in Kwazulu-Natal.
Cousins Steel cc formed an integral part of the Springfield Industrial Park in the late 1980's. It was here that the business established itself as a top contender in the steel business and erected a vast number of factories, each with its own unique features and customized details. Springfield Industrial park has been a thriving business park since 1989. Cousins Steel cc has also played a pivotal role in the development of numerous other industrial parks in and around Kwazulu-Natal. Their dominance is evident in Westmead Phoenix, Mahogany Ridge and Northring Road.
The business is continuously expanding and continues to construct top quality steel structures. The positive working relationships that Lynton and Craig and their team have developed over the years with suppliers and customers are continuously nurtured and a tribute to their genuine nature and trustworthiness.
Primary Activities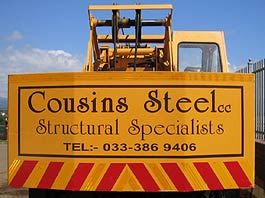 The design, supply, production and erection of structural steel work.
Secondary Activities
Supply and fitting of roof sheeting and accessories
Steel painting according to client specifications
Metal work
Decorative steel work
Crane hire
Core Competencies
Cousins Steel cc possess the cumulative knowledge of the steel industry spanning several decades. It is within this vast experience that the business core competency lies. A great number of workers have acquired knowledge and skills over the past 21 years. They have been subject to numerous training and evaluation courses, and this has facilitated the development of their superior skills.
include "footer.inc"; ?>